Weekly Classes 2019
About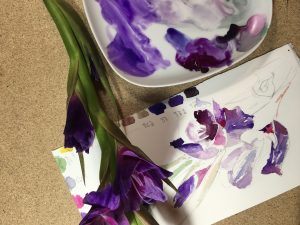 This year I will be running extended classes on Saturdays from 10 a.m. to 4 p.m. You can choose to attend the full day, or just the morning or afternoon (specific times below), whichever suits you best.
I try to tailor to the individual, so classes are not formally structured. However, most weeks I give a short demonstration of a technique or an approach I've found useful, or have just been experimenting with. I will occasionally bring in works in progress.
Most of your time will be given to drawing and painting, developing your own touch and style, and I will provide a variety of subjects every week to inspire you.
Venue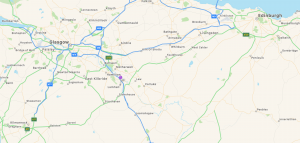 Larkhall Community Centre
19 Montgomery Street
Larkhall
ML9 2AA
Close to the M74 motorway, it is also a 5 – 10 minute walk from Larkhall train station, which is on a direct line from Glasgow (half an hour away).
The room is spacious and bright, but daylight lamps are available for the inevitable dull days.
Tea and coffee to hand.
First floor room, lift available.
There are four or five steps down to the room from the level of the lift.
Dates and times
All day: 10 a.m. – 4 p.m.
Mornings: 10 a.m. – 12.45 p.m.
Afternoons: 1.15 p.m. – 4 p.m.
BLOCK ONE
February 16, 23
March 9, 16, 23
BLOCK TWO
April 6, 13
May 4, 11, 18
BLOCK THREE
September 7, 14, 21, 28
October 5
BLOCK FOUR
October 12, 19, 26
November 2, 9
Costs and booking
If you would like to come along, please let me know by email which block(s) you are booking for, and provide your name and a phone number where I can contact you (preferably a mobile number).
£90 5 mornings or afternoons
£150 5 full days
Payment will confirm your place. Class size limited to 7 maximum.
Payments can be made via Paypal (vicpaypal@23x.net), bank transfer (a/c 00181483, sort code 80-07-24) or cheque posted to: Victoria Braithwaite, Burnbrae Cottage, Crossflat Road, Muirkirk, East Ayrshire, KA18 3RX.
Cancellations and refunds
If you find yourself unable to attend the course, I will refund the full amount provided you let me know at least 2 weeks in advance of the start of the session.
If for any reason I have to cancel a class (snow happens!), I will refund that day's fees, and will do my best to let you know well in advance to save unnecessary travelling (this hasn't happened yet, but I like to have a plan in place in case it ever does).
I will never cancel classes due to low uptake.