Hello folks, and welcome.
I'm currently jumping between paintings, and have my eye on so many plants bursting through that it's hard to stay focused, a bit of a nice problem for a botanical painter at this time of year.
Since my last update, I've been down to Kew Gardens for the opening of the summer exhibition at the Shirley Sherwood gallery, which has hung one of my paintings (Globe Artichoke, Lindisfarne Castle) in their British Artists in the Shirley Sherwood Collection exhibition. It's a gorgeous display, and well worth a visit if you're down in that there London.
There's one space left for my weekly class starting on the 10th of June, all levels welcome.
In February I was honoured to receive the Derwent award at the Artists and Illustrators magazine Artists of the Year 2017  competition. I've been dabbling, experimenting and generally faffing with all these new materials and techniques. (That was a very exciting delivery.)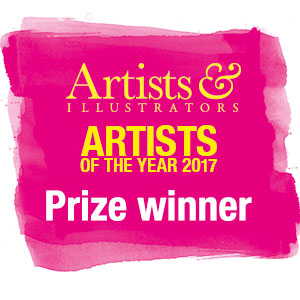 If you're looking for prints, greetings cards, original works or commissions, please drop me a line.
Thanks for reading, enjoy looking around, and happy internetting,
Victoria