Hello folks, and welcome.
It's been a wee while since I updated, so happy 2019 everyone!
I've got a lot lined up this spring, exciting but busy times coming up – my first residency, an invitation to tutor a lovely bunch of Canadian botanical artists, requests for painting articles, starting my regular classes back up and submitting some work to the Society of Botanical Artists for the first time in a few years. All this while planning, planting and painting for the RHS (was aiming to exhibit this year, but plants have been uncooperative, pah!)
I'm also opening my studio to the public in late April (26 – 28 April) as part of Open Studios Ayrshire. Please do come visit if you're in the area.
After all that, I think I might devote the whole summer to gardening and painting 🙂
Happy to share that this piece is now in the collection of Dr. Shirley Sherwood, over the moon!
My painting of tulip 'Vaya con Dios' is part of the Sunday Times Watercolour Competition competition exhibition, which is touring at the moment; it's wonderful that they're including some botanical work, not something you generally see in the wider art world. Currently at Willis Museum, Market Place, Basingstoke, RG21 7QD, until the 20th March.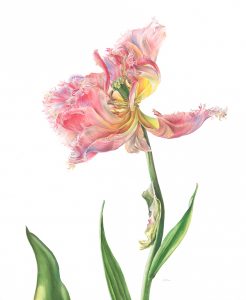 Thanks for reading, and happy internetting,
Victoria