Hello folks, and welcome.
I signed up last year for a local Open Studios event, and have heard I've been selected to take part – if you fancy coming along to see me, my work and my studio, I'll be welcoming everyone with tea and snacks from Thursday 27 April until Monday 30th April, 10-5. Further details will be published on the organiser's website, openstudiosayrshire.com, closer to the event. I'm getting some exciting things ready (greetings cards, tea towels, prints, oh my), and will be hanging all my work that's not currently in a gallery or show.
Also, I recently heard that my painting of Solomon's Seal (Polygonatum multiflorum) has been selected to be a part of the Worldwide Day of Botanical Art exhibition at the Royal Botanic Gardens Edinburgh, from 31st March – 3 June in the John Hope Gateway. It looks to be a fascinating exhibition, highlighting native Scottish plants.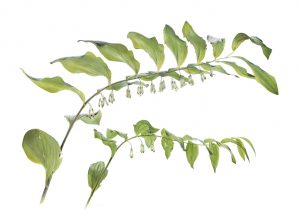 I've just finalised the timetable for my regular weekly class, see 'Courses' for details, and am looking for a venue for a 3-day workshop over the summer. I hope to see some of you there!
Thanks for reading, and happy internetting,
Victoria