Hello folks, and welcome.
It was great to meet everyone who made it to my Open Studio last month, thank you so much if you made the trip. I'm now planting for next year's painting and finishing off some larger pieces for the SSBA exhibition in the autumn. I dropped off the few unsold smaller pieces from the Open Studio at the Southside Gallery in Glasgow – their current selection is amazing, well worth popping in.
My painting of Solomon's Seal (Polygonatum multiflorum) is currently hanging in the Flora Scotia exhibition at the Royal Botanic Gardens Edinburgh, from 31st March – 3 June in the John Hope Gateway. It's a fascinating and diverse exhibition, highlighting native Scottish plants, beautifully curated.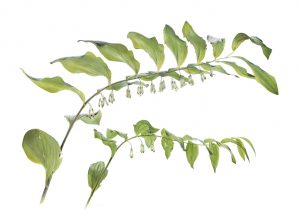 Thanks for reading, and happy internetting,
Victoria