Hello folks, and welcome.
Classes are now finished for the year, so I'm devoting some time to emptying my 'works in progress' pile (26 at last count!) before starting anything new. I've finished a few of these already and dropped them in to the Southside Gallery:
I'll keep you up to date with what's happening, and will add dates for next year's classes and projects as they are finalised.
Happy to share that this piece is now in the collection of Dr. Shirley Sherwood, over the moon!
My painting of tulip 'Vaya con Dios' is part of the Sunday Times Watercolour Competition competition exhibition, which is touring at the moment; it's wonderful that they're including some botanical work, not something you generally see in the wider art world. Currently at Guildford House Gallery, until 29 December.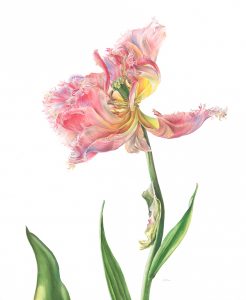 Thanks for reading, and happy internetting,
Victoria