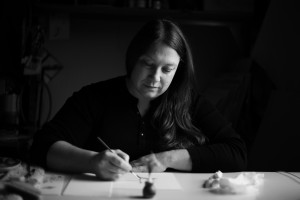 Based in Scotland, Victoria Braithwaite exhibited her first botanical works in 2013 and has rarely strayed from the botanical path since, although always keen to explore and incorporate new techniques and materials.
She searches out movement, grace and dramatic tension in her subjects. Mainly working in watercolour, always with drawing and observation as the backbone, she prefers subjects that are either emerging or on the wane, rather than in perfect bloom.
Original works, as well as high quality signed giclée prints, are available. Please contact me directly with any queries or to chat about commissions.
Exhibitions and awards:
2022 'Unity in Variety', Carol Taylor studio and gallery, Douglas, Biggar Little Festival 13 Oct – 23 December
2022 SSBA Annual exhibition, Dunfermline, October (People's Choice Award)
2022 'Vegetal', Palais des Beaux Arts, Paris
2021 Spring exhibition (online), Tolquhon Gallery, Ellon
2021 141st Annual exhibition of the Royal Scottish Society of Painters in Watercolour, RSA, Edinburgh
2021 'Loving the Garden', SSBA, Scottish Arts Club, Edinburgh
2020 SSBA annual exhibition, Frames Gallery, Perth
2020 SBA online exhibition
2019/2020 'Modern Masterpieces of Botanical Art', Shirley Sherwood Gallery, Kew Gardens, London
2019 Residency, Dumfries House
2019 Plantae, SBA, London (Excellence in Media)
2019 Open Studio, as part of Ayrshire Open Studios
2019 'Nature's Designs', SSBA, Whitehouse Gallery, Kirkcudbright
2019 'Bloom', The Tolbooth, Lanark
2018 The Sunday Times Watercolour Competition
2018 Open Studio, as part of Ayrshire Open Studios
2018 'Shapes of Nature', SSBA, Milngavie
2018 'Flora Scotia', part of the Botanical Art Worldwide project, Edinburgh
2017/18 'Unwrapped', Thistle Gallery, Glasgow
2017 Royal Scottish Academy Open Exhibition, Edinburgh
2017 Artists and Illustrators Magazine 'Artists of the Year 2017' Mall Galleries, London (Derwent Award)
2017 Annual Spring Exhibition, SSBA, Edinburgh
2017 'The Colours of Nature', SSBA, Stirling
2017 'Changing Seasons', SBA, London
2017 'British Artists in the Shirley Sherwood Collection', Shirley Sherwood Gallery, Kew Gardens, London
2017 'Art in Bloom', Biggar
2016 Shape, Pattern, Structure, SBA, London
2016 Flora and Fauna, Thistle Gallery, Glasgow
2016 Beltie Books, Wigtown
2016 A Botanical Spring Fling, SSBA, Glasgow
2015 Voimagalleria, Kouvola, Finland
2015 The Ceilidh Place, Ullapool
2015 New Beginnings at Doors Open, SSBA, Edinburgh (People's Choice Award)
2015 Nature's Bounty, SSBA, Hamilton (People's Choice Award)
2015 'In Pursuit of Plants', SBA, London
2014 Strictly Botanical, Park Gallery, Falkirk
2014 Heil- und Giftpflanzen, Palmengarten, Frankfurt
2014 'Botanical Garden', SBA, London (St. Cuthbert's Mill Award)
2013 'The Language of Flowers', SBA, London
Founding member of the Scottish Society of Botanical Artists
Member of the American Society of Botanical Artists
Commissions welcome.