Hello folks, and welcome.
Just heard that my painting of tulip 'Vaya con Dios' has been accepted for the Sunday Times Watercolour competition, great news, and fantastic that they're including some botanical work.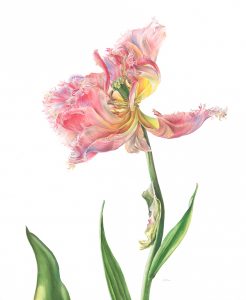 It was great to meet everyone who made it to my Open Studio at the end of April, thank you so much if you made the trip. I dropped off the few unsold smaller pieces from the Open Studio at the Southside Gallery in Glasgow – their current selection is amazing, well worth popping in.
I'm currently working on a large peony for the SSBA exhibition at the Lillie Gallery, Milngavie, this Autumn, and planning ahead for next year.
Thanks for reading, and happy internetting,
Victoria